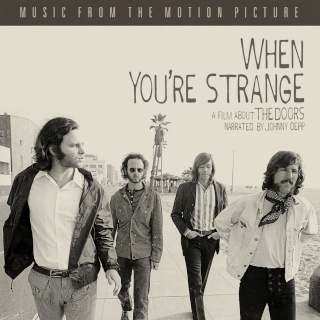 When You're Strange: Music from the Motion Picture
é a trilha sonora do documentário de 2010, narrado por Johnny Deep, sobre The Doors e sua música.
A trilha é composta por 14 músicas provenientes de seis álbuns de estúdio do Doors, bem como versões de estúdio de músicas ao vivo, incluindo performances no Ed Sullivan Show, na Television-Byen em Gladsaxe, no Felt Forum em New York e no Festival de Wight.
Todas as músicas são executadas pelo Doors. As faixas faladas são poesias lidas por Johnny Deep e escritas por Jim Morrison, exceto The Doors of Perception, de William Blake.
The Doors - When You're Strange (Songs From The Motion Picture) (2010)
MP3 320 kbps | Soundtrack | No password
Tracklist:
01.: Poem: Cinema
02.: Poem: The Spirit of Music
03.: Moonlight Drive
04.: Poem: The Doors of Perception (William Blake)
05.: Break on Through (To the Other Side) - Live from the Isle of Wight, 29/08/1970
06.: Poem: A Visitation of Energy
07.: Light My Fire [mono] - Live from the Ed Sullivan Show, September 19, 1967
08.: Interview: To really be a superstar (Jim Morrison)
09.: Five to One
10.: Poem: Wasting the Dawn
11.: When the Music's Over [mono] - Live from Television-Byen, Gladsaxe (Copenhagen, Denmark), 18/09/1968
12.: Interview: The Doors
* The four of us are musicians (Jim Morrison)
* I'd like them to listen (Ray Manzarek)
* Rock & roll and jazz (John Densmore)
* Our music is symbolic (Robbie Krieger)
13.: Hello, I Love You
14.: Interview: Dead serious (Jim Morrison)
15.: People Are Strange
16.: Poem: Inside the Dream
17.: Soul Kitchen
18.: Poem: We Have Been Metamorphosized
19.: Poem: Touch Scares
20.: Touch Me
21.: Poem: Naked We Come
22.: Poem: O Great Creator of Being
23.: The End
24.: Poem: The Girl of the Ghetto
25.: L.A. Woman
26.: Poem: Crossroads
27.: Roadhouse Blues - Live from the Felt Forum, New York, 17/01/1970
28.: Poem: Ensenada
29.: Riders on the Storm
30.: Poem: As I Look Back
31.: The Crystal Ship
32.: Poem: Goodbye America
MULTIDOWNLOAD - PARTE 1

MULTIDOWNLOAD - PARTE 2

Admin




Mensagens

: 1066


Data de inscrição

: 19/07/2009




---
Permissão deste fórum:
Você
não pode
responder aos tópicos neste fórum