VA - The Brit Awards 2011 – álbuns que contêm uma coleção das 60 melhores músicas de 2010, incluindo Tinie Tempah, Plano B, Kings Of Leon, Adele, Katy Perry, Bruno Mars e Rumer, entre outros.
A premiação será em 15 de fevereiro de 2011, sendo que a estatueta foi redesenhada por Vivienne Westwood.
Confira nos vídeos abaixo.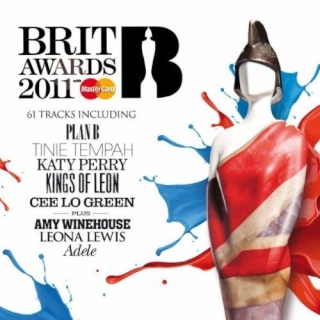 VA - The Brit Awards 2011 (3 CD)
Blues, Soul, R&B, Pop, Rock, Electronic | MP3 | 256 kbps | Sem Senha/No Password
CD 1:


01.: Plan B - She said
02.: Bruno Mars - Just the way you are
03.: Katy Perry feat. Snoop Dog - California gurls
04.: Robbie Williams & Gary Barlow - Shame
05.: Flo rida feat. David Guetta - Club can't handle me
06.: JLS - The club is alive
07.: Alexandra Burke feat. Pitbull - All night long
08.: BOB feat. Hayley Williams - Airplanes
09.: The Black Eyed Peas - Imma be
10.: Travie McCoy feat. Bruno Mars - Billionaire
11.: Mike Posner - Cooler than me
12.: Paloma Faith - New York
13.: Olly Murs - Please don't let me go
14.: Michael Bublé - Hollywood
15.: Gorillaz - Stylo
16.: Paul Weller - No tears to cry
17.: The XX - Islands
18.: Vampire Weekend - Cousins
19.: Biffy Clyro - Many of horror
20.: Kings of Leon - Radioactive




CD 2:


01.: Tinie Tempah - Pass out
02.: Cee Lo Green - Forget you
03.: Taio Cruz - Dynamite
04.: Usher feat. Will.i.am - Omg
05.: Cheryl Cole - Parachute
06.: Jason Derulo - Ridin solo
07.: Alicia Keys - Try sleeping with a broken heart
08.: Lady Gaga - Alejandro
09.: Rumer - Slow
10.: Ellie Goulding - Starry eyed
11.: Pixie Lott - Cry me out
12.: The Wanted - All time low
13.: Scouting For Girls - This ain't a love song
14.: Owl City - Fireflies
15.: Eliza Doolittle - Pack up
16.: David Guetta feat. Chris Willis - Gettin over you
17.: Mark Ronson and The Business International - Bang bang bang
18.: Dizzee Rascal - Dirtee disco
19.: Professor Green feat. Ed Drewett - I need you tonight
20.: Florence And The Machine & Dizzee Rascal - You've got the dirtee love




CD 3 - Brit School:


01.: Adele - Rolling in the deep
02.: Amy Winehouse - Rehab
03.: Leona Lewis - Bleeding love
04.: Kate Nash - Foundations
05.: The Noisettes - Don't upset the rhythm
06.: Katy B - Katy on a mission
07.: Aggros Santos feat. Kimberly Wyatt - Candy
08.: Master Shortie - Rope chain
09.: Bashy - When the sky falls
10.: Jacj McManus - Either side of midnight
11.: The Feeling - Never been lonely
12.: Athlete - Wires
13.: Floetry - Say yes
14.: Another Level - Freak me
15.: Damage - Love II love
16.: Rox - My baby left me
17.: Joe Worricker - We hung in bed
18.: Imogen Heap - Hide and seek
19.: Charlene Soraia - Daffodils
20.: Katie Mellua - The closest thing to crazy MULTIDOWNLOAD - CD 1MULTIDOWNLOAD - CD 2MULTIDOWNLOAD - CD 3
[Você precisa estar registrado e conectado para ver este link.]
[Você precisa estar registrado e conectado para ver este link.]

Admin




Mensagens

: 1066


Data de inscrição

: 19/07/2009




---
Permissão deste fórum:
Você
não pode
responder aos tópicos neste fórum